The use of Ezoic is relevant for those users who want to get maximum control over the ad inserts used. AdSense is suitable for those who want to turn it on once and then forget it.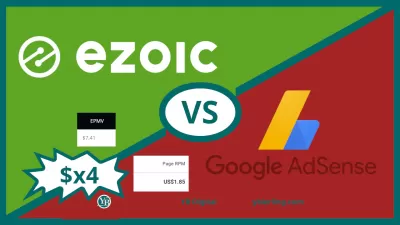 ---
---
Adsense vs Ezoic
Ezoic is a powerful tool for promoting your products and services on the market, but they need to be able to use them correctly. Almost every SEO is already familiar with AdSense, so the likelihood of unpleasant or unexpected surprises is minimal.
However, it is known that as soon as any instrument becomes dominant, it loses its attractiveness. If everyone enjoys its benefits, then no one gets priority over others. So it's time to try a new platform. Regardless of whether the Ezoic can become such, the requirements to experiment to increase their own income remain.
Features of AdSense Auto Ads
Google AdSense is a contextual advertising service that allows everyone to earn income from their blog. You can place different types of ads on your site or search page and earn on each click of visitors or on the number of views.
Service AdSense vs other systems has its own characteristics. It is equally convenient for both webmasters and advertisers. With it, you can earn money on almost any site, the main thing is that it complies with the company's policy and is filled with useful content. The service does not require additional investments and special knowledge, it is enough to pass a simple registration.
Google offers a new service for the automatic insertion of advertising blotches into existing content on the site. This ensures higher earnings on the existing ad unit on the site.
The problem is that Google's automated ad optimization is not at its best. In fact, we are talking about testing your own platform on a client's site, and then taking a significant share of the income.
It is for this reason that automated advertising from Google is still not unconditionally popular among webmasters and SEOs.
Ezoic, or EzoicAccessNow, is a proven and reliable testing platform for almost any kind of advertising. The user can change the color, placement, size and other parameters at will. The main advantage is the ability to test and compare different networks with each other. Networks available for testing include AdSense.
EzoicAccessNow
The main advantage of Ezoic is the ability to automatically study behavioral factors in order to improve the service based on the data received. The webmaster can make small and large changes to his site to increase the attractiveness of advertisements for the user. The advertiser gets the maximum profit in terms of attracting new customers.
Usage example
The user can use two networks in his work: Media.net and AdSense, simultaneously enabling testing and comparison of two tools with each other using Ezoic. During testing, both tools are perceived as separate networks, and Ezoic gives a simple and understandable answer as to which user is more suitable for this or that type of advertising platform.
All reporting is issued in a simple, intuitive form that even a layman can understand. The proposed reporting helps to further improve your own site in order to increase income.
4 Secret Website Analytics KPIs On Ezoic Big Data Analytics
Comparison of characteristics
Google's service definitely lacks a clear reporting system, while Ezoic does it well. Separately, it is worth talking about EzoicLEVELS, which is a unique system for encouraging the growth of publishers. With the help of levels, you can monitor the improvement of the advertising campaign, the increase in behavioral factors.
For more visual information, we present a list of the pros and cons of both systems.
Adsense benefits:
Time-tested service with a large database of webmasters and advertisers;
Low entry threshold for publishers, you can start with literally zero site;
High cost of advertising for webmasters while low for advertisers;
The ability to get the first results a few minutes after the integration of the ad unit on the site;
Possibility of making money on almost any topic;
High risk of blocking, including account ban;
It becomes difficult for the service to track the exact number of ads on a page, which can adversely affect the UX;
Using RPM, which results in lower income when compared to alternative types of solutions;
Lack of control by the user for automated advertising, the service independently decides where exactly the insert is placed, often the algorithm chooses not the most suitable place for this;
Poor technical support that is almost unresponsive to problem reports;
Slower loading speed due to JavaScript in the browser.
Ezoic Benefits:
Growth of income due to testing, since the user can use both an automated tool to control the placement of advertising inserts, and independently influence by changing certain ads;
High quality reporting and analytics, the user can independently verify this using the toolbar integrated into the service;
Sticky ads, which can be placed in the left panel, and additionally used anchor ads in the footer of the site for both desktop and mobile users;
Maximum control over advertisements, including the ability to customize exclusion pages without any additional inserts;
Technical support at altitude, which responds in literally a few hours;
Protection against unreasonable bans in Adsense.
Higher requirements for publishers compared to Adsense;
A small ad in the footer for those users who do not want to pay for the service, but remember: the insert itself is almost invisible to visitors, most of them refuse to scroll to the end;
The need to wait at least 30 days to get the results, the algorithm needs time to collect and analyze the data;
The complexity of the setup is the flip side of giving the user maximum control over the ads on their site.
Ezoic Tools
Ezoic offers users a number of additional tools that help in their work, contribute to the growth of profitability. Among them, Ezoic Ad Tester stands out - a multivariate analysis tool on the site. You can test a huge number of ad unit combinations on your site.
Ezoic Speed ​​Accelerator contributes to the fact that the speed rating from Google will give 80+ for each resource. It is noted that Google uses website loading speed as one of the ranking factors, so you need to pay attention to this indicator.
You can use the Ezoic Chrome extension to easily edit ad placeholders, but make sure to install the official extension from the publisher Ezoic.
Ezoic Premium Review: extra tools for publishers
Conclusion: Ezoic vs AdSense, what to choose?
Both systems can be used to make money. If the user is interested in getting the most control over the ad inserts, then Ezoic should be chosen. This system additionally offers excellent reporting so that you can customize ad inserts in a way that suits you.
Connoisseurs of time-tested systems choose AdSense. Also, this system is suitable for those who want to add code to the site once, run it, leave it as it is. Correct use of the system allows you to ensure a high level of income.
Frequently Asked Questions
When comparing Ezoic vs AdSense, where is the easier entry threshold for new publishers?

AdSense has a low entry threshold for publishers, so you can start interacting from literally zero site. And Ezoic has higher requirements for new publishers.

Does AdSense or Ezoic have the best technical support?

AdSense has poor tech support that barely responds to problem reports, while Ezoic support is top notch, responding in just a few hours.

Who has the best tech support for Ezoic vs Google AdSense?

If we compare these two sites, then Ezoik has a highly qualified technical support, which responds in just a few hours. And Adsense has poor technical support, which almost does not respond to reports of problems.
---
---
Explore Your Business Potential: Discover Our Range of Transformative Courses Today!
Unveil the power of knowledge with our diverse array of courses, from Operational Procurement in S/4HANA to SEO essentials. Elevate your expertise and drive success in your business ventures.
Get your course
---