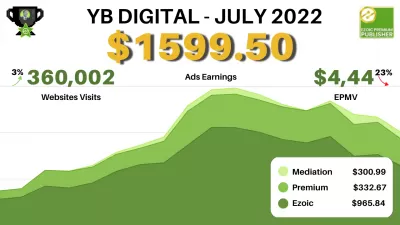 ---
---
With the arrival of the summer period, and the move of audience from office to the beach, our EPMV has experienced a steep decline of 23%, leading to a similar decline in overall earnings, as the audience has grown of 3% only.
In general, out content is based on business topics, for which davertisers are less willing to spend money during holidays. However, our leisure related content has picked up some more audience, leading to this small increase.
In the next months, and in November especially, we expect to see at least a small increase in EPMV, let's keep having a look at it!
Our network's earnings with Ezoic in July 2022
Historically, July is always our lowest month for EPMV, due to holiday season at its highest around the globe. Also, with the earnings decrease coming from this EPMV decline, we have been downgraded to a lower premium plan that costs less money, but also brings only half the Premium revenue.
Therefore, the approximate $400 earnings decrease between June and July can be attributed for half to the Ezoic Premium downgrade, and for half to the seasonal EPMV decrease.
As our traffic has started to pick up a small increase, despite the current season, and EPMV is expected to follow the same trend, we have to remain optimistic and wait for better days!
For the full month of July, according to the graph shown that has been extracted from Ezoic earnings reports, our revenue is divided as follows:
Generally, both Ezoic revenues from standard ad partners and premium ad partners went down, with $300 less from the ad-exchange network, and $200 from Premium advertisers.
However, meanwhile, we see an increase of $150 in earnings from mediation with our registered partner AdSense, which limits the loss.
Nevertheless, the  Ezoic platform   still is the best option to monetize a content website - let's have a look at the revenue dynamics.
Revenue dynamics compared to previous months
Looking at the earnings evolution graph, earnings in July have been at their lowest for a year, especially for the Ezoic Ad partners, that had consistently been at least 30% higher, even in second lowest month on this period, in August last year.
Same can be said for the Premium Ad Partners, with a year record low in July at about 30% below the second lowest result of the period, in August last year.
However, mediation Ad partners are picking up on a new trend, with a record high at around 3 times higher than the average for the period.
Drawing conclusions about thie earnings chart is quite difficult at the moment, as the traffic that has remained overally constant in numbers, might be hiding deeper changes in geographies served by content.
Our EPMV evolution
Similarly, our EPMV has decreased from $5.7 in June to $4.44 in July, a huge 23% decrease, and year low record, that can be explained by many factors, most of them externally, as the ad rates might have also dropped, thus leading us to earning less with the same content.
Therefore, let's look deeper and check the ad rates evolution to see if it has something to do with our visible decrease.
Having a look at the af revenue index
But by having a look at the Ezoic ad revenue index, and selecting the corresponding period, at least for the United States, we can see a similar decline for the period: July 2021 ended up at 44% of the ad spending level observed at its highest, in November 2021.
Comparing numbers between our Ezoic earnings of $2960,39 in November 2021 and being at $1,599.50 we can assess that the decline we see is very similar to this ad index rate, as July earnings are representing 54% of our November revenue.
Adding in the mix a slight decrease of traffic lately compared to end of last year, we can safely conclude that the drop in earnings is due to a global drop in ad rates spending, and a light traffic decrease.
Our achievements in July
Regardless, our month of July has been quite busy, with the publishing of more than 90 articles in various categories, including a lot of affiliate-targetted content. But let's have a deeper look at some of these articles that seems so far to be the most promising in terms of monthly page views, and therefore potential earnings, in various niches:
We've published various articles in the same trend, targetted at driving affiliate traffic to phone trackers, private Instagram story viewers, and also to parental control applications for mobile phones.
In total, we've published more than 20 such articles, each of them targetting a different keyword in a different category, and this article is the most promising so far.
With an average of 87 page views per month, and about $0.30, this article has an RPM of around $3.41, below our average for last month.
One of our most promising article published last month is about solving a Google Workspace related issue that can happen especially in business environment.
Therefore we expect it to take off in September, like all other business oriented articles.
So far, it has attracted the equivalent of 31.3 monthly page views and $0.37 monthly earnings, which would be an RPM of $11.67 if the trend was to continue at the same pace. An impressive result!
This SAP related article has already shown great success, with $0.39 earnings since it publishing, less than a month ago, with an RPM of $4.67.
While this might seem low for niche-targetted article as this one, related to solving a specific software issue, with screenshots included, we expect this type of article to pick up a larger audience and earnings with time.
Following the trend of publishing articles meant to bring affiliate traffic to our publishing partners offering recurring passive income, this one comparing the two display advertising optimization Media.net and Ezoic has been the most successful in July, with an expected RPM of $13.89, corresponding to an average 19.29 page views per month and $0.27 monthly revenue.
As the website it has been published on has pretty low traffic, it is promising of possibilites to increase corresponding traffic.
One of our most successful publications of July regarding RPM per page in July only, this SalesForce niche targetted article has already earned $0.25 with only 14 page views, or an actual RPM of $21.43.
If the trend was to continue and we can positively impact the article search engine positioning, thus increasing traffic, that content could become a gold earner.
Best performing articles published in July per RPM
August plans
Despite these low earnings, we won't change our plans for August and keep the current content publishing plans, which include creating more affiliate-targetted articles.
Additionally, and this is a first, we have started working on a large scale SEO-update of our articles.
A writer is currently reviewing a list of hundreds of URLs that did not yet make as much most as they did cost to produce, and each of them will receive a specific update for a selected keyword whenever ready.
Ultimately, if proven usefull, all of our thousands of articles will receive such an update, regardless of their invidividual results, and this process can continue for as long as necessary.
However, as with any SEO update, we will hardly see any result before months, and these results might not be as good as what we would expect to reach ROI for this type of activity.
July conclusion
With the year lowest ad rates, and our lower display ad earnings and EPMV, it would be easy to take a break and give up. However, this situation is only a low due to worldwide events, and the ad rates are expected to get up later.
In any case, it is not a reason to stop working and stop trying to create, update and provide great content to readers, and to increase our network's global audience.
Frequently Asked Questions
How to increase Ezoic earnings?

The best way to increase your Ezoic earnings is to join the Ezoic Premium plan. This is a premium program that will allow you to access personalized advertising partners and increase the income of your website.

Which month is bad for Ezoic income?

July has always been the lowest month for EPMV due to peak holiday season around the world. Therefore, when planning your website strategy, keep in mind that the summer period is a period of stagnation. And at this time, you need to take into account the behavior of the audience.
---
About the author - Yoann Bierling
Yoann Bierling is a Web Publishing & Digital Consulting professional, making a global impact through expertise and innovation in technologies. Passionate about empowering individuals and organizations to thrive in the digital age, he is driven to deliver exceptional results and drive growth through educational content creation.
---
---
Explore Your Business Potential: Discover Our Range of Transformative Courses Today!
Unveil the power of knowledge with our diverse array of courses, from Operational Procurement in S/4HANA to SEO essentials. Elevate your expertise and drive success in your business ventures.
Get your course
---