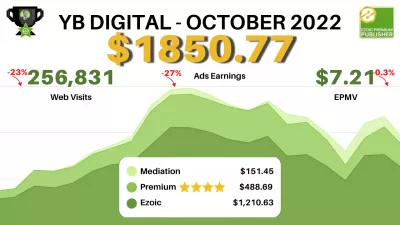 ---
---
After a large EPMV increase in September, a small earnings increase and a huge website visits decrease, we saw a 27% earnings drop in October compared to September, with a-0.3% EPMV decrease, mostly due to a 23% decrease in Web visits. We have also been downgraded to EZOIC Premium 4 stars plan, that triggered a corresponding premium revenue decrease.
In November next month, we expect a higher EPMV, the highest of the year due to Black Friday, but for now, let's have a detailed look at our earnings for the month of October, its evolution, and see why EZOICADS is the best way to monetize a website.
Analyzing our traffic loss
With the September Google core update, we started losing a lot of traffic, which of course triggered a corresponding loss of advertisement earnings, as the EPMV remained stable meanwhile.
While there is nothing to do when this happens, except making sure we are creating content as helpful as possible, as the search engine updates can either drive traffic up or down, we did asked our dedicated EZOIC Publisher Success Manager to perform a technical SEO audit on our website, which was completed.
The following points have been worked on, and are currently being implemented in November, the full technical update should be visible by the end of the month, and content update whenever possible:
Providing E-A-T
The E-A-T acrynom stands for Expertise, Authoritativeness and Thrustworthiness, and basically means that content credibilty should be better visible.
Therefore, we have re-introduced the about the author section on all our self-written articles, and are currently thinking about a solution for our externally procured articles.
Provide an FAQ with schemas
FAQs are an important aspect within search results. In almost every Google search query, the people also ask section is one of the top results. Providing an FAQ section somewhere on our page will add to our overall content and provide additional value to our readers that other sites are not doing. Furthermore, including FAQ schema with this strategy can increase our odds of producing a rich result, shown on first search results page.
Therefore, we have asked our freelance SEO expert assistant to focus on adding questions and answers to our articles, one after the other.
Create a table of contents at the top of the page
This is a powerful strategy in SEO that helps Google crawlers and users better understand your content. This strategy can also produce rich results in SERP.
We have had that technology ready, but we removed it a year ago in an effort to reduce our page size for faster content delivery. Therefore, we have now reactivated that option on our websites.
Target keywords via URL
While our English URLs are always targetting the main page keywords, for reporting reasons, we used the same URL for other languages, even if in the local language the keyword is different.
We are being rolling out this major update, will URLs for all our pages reflecting the local language when possible, even using UTF8 characters for our pages in Russian for example.
YB Digital's network earnings with EZOICADS in October 2022
The $7.21 EPMV we got in October is one of our highest global EPMV ever with EZOIC, up from $1 when we were using AdSense only to monetize our websites, to now more than seven times higher RPM than AdSense by monetizing with EZOICADS, as we have already detailed in some older articles!
For the full month of October, according to the graph shown that has been extracted from EZOIC earnings reports, our revenue is divided as follows:
All our numbers went down, with 47% decrease from mediation advertising partners, 23% decrease from EZOICADS premium advertising partners, and a spectacular 26% earnings decrease with EZOICADS advertising partners, with the lowest visits count for more than a year!
In any case, even with these numbers, we are again comfortable saying that the EZOICADS platform is the best option to monetize content websites. Let's have a look at the revenue dynamics with extracted graphs to get a better understanding.
Revenue dynamics compared to previous months
Having a look at the earnings graph of our websites over the past year, we can clearly see the decline starting from November 2021, with the trend downards continuing until July, the lowest point of our past year for earnings.
A small pike appears in March, with coincides with the first quarter end, and the companies spending their budget for this occasion.
This hasn't happened in June this year for a specific reason, with the global events currently taking place, advertisers have been more careful in spendings their budget, and are probably holding back until the end of the year, probably the trend that we are currently seeing in the month of August, even exceeding our June earnings, and just a little behind May for us.
The upward trend that we can observe since August did not continue in October due to our traffic loss, but if traffic remains stable, we expect a slight increase around Black Friday and Cyber Monday, to be followed by a slight decrease in December.
Our EPMV evolution: from $7.4 to $7.21
Our EPMV is down 0.3%, which actually accounts for a visible advertisers budget increase, as we got downgraded one EzoicAds Premium level, but the EPMV remained basically stable - we were expecting a larger drop.
Explore Your Business Potential: Discover Our Range of Transformative Courses Today!
Unveil the power of knowledge with our diverse array of courses, from Operational Procurement in S/4HANA to SEO essentials. Elevate your expertise and drive success in your business ventures.
Get your course
To make sure of that, let's have a look at the EZOIC ad revenue index.
Having a look at the ad revenue index
Looking at the EZOIC ad revenue index for the United States over the past year, we can see that the month of August ended at less than 50% of it's maximum level, during the BlackFriday in November last year, and ended at the same level by the end of October, showing a pretty stable ad spending from advertisers.
If we step back and have a look at the global month of August on this index compared to the month of September, it seems like September globally had higher peaks and October had lowest lows.
Therefore, the stable EPMV we noticed on our sites might also be linked to the niches that we are monetizing, and maybe not completely only to the global ad spendings.
Our achievements in October
In any case, we have been very active in October and did not take any vacation, but instead focused on creating new, useful and hopefully unique evergreen content for our websites.
SEO update of our articles
First of all, an SEO digital assistant hired for the occasion continued preparing an SEO update for more than 600 articles that have been written externally.
Of these updates, two batches of 200+ updates have been delivered and are not yet live on our websites. The last batch have been delivered early in October, and the assistant will keep working on our SEO updates for all our articles, self written and the ones that are most technical but also earnings the most money - about 1000 articles on various topics for which questions and answers will be added.
Update of our French articles
In order to better focus on getting French Web publishers to join the EZOICADS platform and make more money with their websites, we have translated all our EZOICADS related articles into French, again using the services of an Ukrainian freelance worker that has already completed all these tasks.
We will also focus on getting an SEO update with questions and answers for these articles by a specialized freelancer.
Let's have a look at the most important content we published on our network.
Our best performing article last month with $4.34 revenue in only 13 days, was a roundup with expert quotes from HARO (Help A Reporter Out) in which 191 quotes from expert marketers were gathered and published on our digital marketing website.
Our second best performing article, with a whopping $30.66 RPM, is another roundup with expert quotes answering the question where can I fly for a luxury honeymoon, and published on our main travel website.
The third best performing article we published in October is again an expert quotes roundup, published on our data analytics website, with tips to maximize website revenue, especially useful now as the Black Friday is around the corner, and this article got a $7.08 RPM.
Finally, we published last month a large series of updates to our cost of living in series, and the one about the Luxembourg brought so far the largest revenue with $1, on our alternative travel portal.
Best performing articles published in September per RPM
Let's have a look with more than a full month overview of best performing articles per RPM that were published in September:
November plans
In November, we are planning on finishing the implementation of our core website optimizations: adding FAQs, and localizing all our URLs.
On top of that, we are still working with various freelancers to update, translate and create more amazing content.
We are also looking forward to recruit a new Content Creation Assistant, that will help us design content for our social medias, and manage our social media accounts better.
October conclusion
With ad rates going up, stable EPMV, earnings down, and our EZOICAds premium plan downgrade to the 4 stars plan, the month of October has been quite bumpy, however it was worth spending more time working and preparing our sites for the upcoming Black Friday, instead of taking long vacation that can easily be postoned to a time with lower prices, after the high season.
We will also keep most of our content creation efforts from new articles publishing to video creation and other media development, to either better illustrate current content, take our SEO up, and eventually drive future content creation towards end of the year.
Frequently Asked Questions
Is it important to track website EPMV Ads?

This is very important to track on your sites with Ezoic. Since this is the best platform for monetizing content sites, which will help you track the dynamics of your income.

Do EPMV ads have seasonality?

Seasonal factors have an impact on EPMV ads. For example on our site you can see a higher EPMV, the highest of the year due to Black Friday in November. The same applies to holidays, weekends and good weather.
---
About the author - Yoann Bierling
Yoann Bierling is a Web Publishing & Digital Consulting professional, making a global impact through expertise and innovation in technologies. Passionate about empowering individuals and organizations to thrive in the digital age, he is driven to deliver exceptional results and drive growth through educational content creation.
---
Explore Your Business Potential: Discover Our Range of Transformative Courses Today!
Unveil the power of knowledge with our diverse array of courses, from Operational Procurement in S/4HANA to SEO essentials. Elevate your expertise and drive success in your business ventures.
Get your course
---
---