---
---
Becoming an influencer is a dream of many people, and there are many ways to get there, either through creating an Instagram account, becoming a YouTube vlogger or creating your own podcast, and new ways of becoming an influencer keeps popping up.
But how do influencers actually  make money online   and manage to make a living with their creations? A first answer is to use an influencer platform like  ValuedVoice.com   or  Glambassador.co   and  Vazoola.com   that will connect you with possible customers looking for influencers.
But these are not all the possibilities! In order to know more, we asked the community for their answers, and got some amazing contributions and interesting ideas that we are sharing with you.
My favorite way is using display ads on my websites and affiliate links in anything I share on any platform. What is yours? Let us know in comments!
How does Instagram / video / podcast influencers get paid, through which payment tools, how much does it cost to use their services, or how much do you charge/earn and for what type of performance?
@canahtam, 187k followers: I charge around $1,500 per post with a 3-frame story
1) How do Instagrammers get paid?
Payment in monetary form is usually made either via ACH/Wire Transfer or through PayPal depending on which form the influencer prefers as well as which platform and means a brand can process payments from. There are some boutique agencies and brands that can also write up checks or use other alternate platforms such as Cash app which some influencers prefer to use.
In my personal opinion, PayPal is the quickest and easiest way to receive payments. There are instagrammers who are agency represented so thei agencies make the payments to them per project.
2) How much does it cost to use an Instagrammer service?
Depends on multiple factors from the brand's allocated budget, asked deliverables, and usability/exclusivity to influencer's rate, metrics, and level of credibility/fame in the marketplace.
As I do photography, I typically charge around $1,500 per post (non-carousel) with a 3-frame story included with brand usage and pick my campaigns carefully to make sure they align with my personality and my style.
3) For what type of a performance?
There are various forms of Instagram campaigns that are executed depending on a brand's need and goal. Types of campaigns may vary anywhere from a story based conversion/performance campaign to awareness campaign that involves posting content in the feed and even to just simply conten creation for a brand (no posting)
Based on these deliverables a brand may have a payment structure in place.
From direct payment in exchange for services rendered to revenue share/commission, brands can resort to different payment structures to offer instagrammers.
Pricing is primarily done on metrics calculated and shown on Instagram with a combination of views, engagement, followers,..etc.
For instance, someone may have 500k followers on Instagram but their story views may be 6k so pricing should not solely be done based on 500k followers.
3) My favorite campaign:
Late last year, I've had the opportunity to join the Mazda CX-30 campaign in Santa Barbara, CA, with a bunch of other creators. This was more of an adventure and experiential campaign that we shared on our respective Instagram accounts through in-feed posts and story frames.
@sarahfunky, 109k subscribers / 47k followers: ad revenue, sponsored videos, affiliate revenue
I started my travel/NYC brand in 2018 officially with the launch of my YouTube channel. Today I have over 100,000 subscribers, own a tour company in NYC, have written several e-books, and am an on-camera show host for GoDaddy's School of Hustle. As a vlogger, there are several ways that I get paid. The first way is through ad revenue, which can vary depending on how many views my channel gets. The more views, the more money; money has little to do with the amount of subscribers (a common falsity). The second way I make money is through sponsored videos on my YouTube channel. These can come from brands approaching me for a sponsored post or vice versa. An easy way to get sponsored posts is to sign up for the many influencer platforms that exist, such as #paid, Activate, Clever, AspireIQ, etc. The third way I get paid is through affiliate revenue. If I am talking about a product or service in a video, I will reach out to the brand and get an affiliate link so that I can get commission off of any sales that come through my video. Those are the three main ways but I have a whole video that explains all of the ways I make a six-figure income as a vlogger in this video: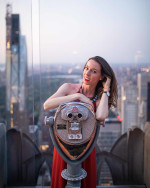 I am a vlogger with 109K subscribers
@margreen_s, 100k followers: I have developed a new concept called Behind the Greens
My name is Margarita, and for the last year I have been creating content focusing on: Sustainability in daily life and travels, Plastic pollution and minimising plastic, Animal conservation, Supporting and promoting brands that are offering more sustainable and eco-friendly products
I try to use my platform and the power of my social media to speak about important topics and influence people to be more responsible with their choices. I also create documentary-style videos for IGTV and Facebook focusing on topics mentioned above.
I have over 110K followers across my social media platforms with videos reaching anywhere from 10 000 to 100 000 people. My education in sustainability and experience in social media helped me to develop a unique style in content creation, writing and presenting the information. I am able to present sustainability topics in a positive, interesting, fun, and comprehensible way to a wide audience. People engage with my content because it is authentic, genuine and down to earth. I am not trying to portray myself as a "zero-waste" idealist, more so - imperfect nature lover who wants better for our planet and is on a lookout for better options.
Some ideas could be to collaborate on the content in the form of:
Story takeover on your page
Creating content for your channels (Instagram, TikTok)
Getting involved in one of your campaigns
Being a sustainable ambassador
Visiting or doing sustainability talk at one of the events or charity projects
Visiting and creating content from Behind the Scenes of the sustainable production
Talking about brand's story and care for the world
After working with various brands I have developed a new concept called Behind the Greens- behind the scenes of a greener company.
It is a combination of classic social media exposure followed by creative, unique and interesting storytelling captured and presented by a professional team.
Each project focuses on an aspect of the client's business that is doing something GOOD or BETTER for the world. It can be anything from a zero-waste production process to providing more innovative sustainable products or supporting a cause or a charity.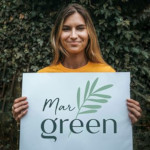 Margarita is a zoologist, sustainability activist and content creator, who uses the power of her social media to influence people to make more sustainable choices in daily life. After traveling to more than 60 countries and seeing what actually happens to our planet, how plastic and food waste affects the environment, she decided to take a stand to speak about it and encourage people to care about nature just a little bit more. Sustainability is the main focus of Marga's socials, she speaks a lot about eco lifestyle, responsible traveling, ethical wildlife encounters, supporting locals and living in unity with nature. Margarita is a speaker, presenter and someone very passionate about nature connection and taking care of our planet.
@theatlasheart, 26k followers: I charge $100 for every 10,000 followers I have
When I'm working with brands, I either get paid via Paypal, direct deposit, or through a check in the mail. It depends on how the brand's finance department works. If it's only a one-off sponsored Instagram post, I charge $100 for every 10,000 followers I currently have. So for my Instagram account of 26,800, I would charge around $270 for one sponsored post.
However, I would charge closer to $300-$400 if they want a carousel post and multiple Instagram stories as well. If a brand wants an Instagram post and a blog post, I charge upwards of $1000+.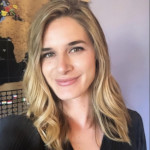 Mimi McFadden is the founder of The Atlas Heart, a California travel website that focuses on outdoor adventures.
@mcraftguide, 28k followers: Instagrammers earn mainly in three ways
Selling Shoutout/Promotion:
Selling Shoutout is the most easiest way to start earning through Instagram.
And most of the instagrammers earn with this way, even I started my first earning with this way.
Many big and small companies or accounts pay you for advertising them on your profile.
The rate is decided on the basis of the followers and engagement rate.
Generally, if you have 10k followers and atleast 1k like on every post then you can charge $3 for a story and $5 for a post.
And if you reach 100k followers someday, then you can charge $30 for a story and $50 for a post (a friend of mine told me this rate - he has 117k followers)
Note: Sometimes, it depends on the niche also.
It's simple.
The process is simple, they will approach you for advertisement and sometimes, you have to approach them by directly outreaching them.
After they are ready to advertise, they send you the resources/template to upload and after uploading they pay you through PayPal.
Affiliate Marketing:
Affiliate Marketing is the next way and the most profitable way through which someone earns.
For example: If you have a fashion based profile then you can get affiliated with any of the medium [Amazon, Bang good, Etc.]
And start selling the products by either using stories or a individual post.
Teespring/Dropshipping :
I have a lot of Instagram friends and many of them even have 100k, 200k followers and most of the time, they create a nice product through teespring (T-Shirt, bag, mask)and then create a ad just by using their phone and advertise it on the profile.
And they earn a lot better from just selling Shoutouts.
These are three ways through which I earn from Instagram and seen other's also.
Seth Samuelson, SeCa Hose Holder: Marketing budgets are tight for start-ups, so we don't spend more than $100 mostly
Using influencers varies in price based on the size and clout they have. Being a small business, we sometimes use micro-influencers because we feel they're just like us looking to build aspiring dreams into reality. Sometimes we trade our product for the shout out or pay based on what we agree is a fair rate. Marketing budgets are tight for start-ups, so we don't spend more than $100 mostly and usually pay through Venmo or PayPal. What's most important is picking the right fit for your brand. Are they the type of person who would enjoy your product? Are their followers those who would be interested in you? It's important to ask yourself these questions so you'll get the best result for both parties!
I'm Seth Samuelson and the owner of a garden tool called the SeCa Hose Holder. We're a small, Texas-based gardening brand of a quality, American-made tool.
James Walsh, Billions in the Bank: I find a way to read an advertisement in my podcast
I have been doing podcasting for the last 9 years. The growing trend of podcasting in the U.S has made me join podcasting, and I totally loved taking it as my profession. I am a storyteller podcaster, the uniqueness of my work is hidden in the ureal, imaginative stories and ideas. This theme has made my podcasts a total success.
Sometimes, I adopt a unique way of creating advertisements using my own creative skills and style. In that case, I am the one who read the advertisement and finds a way to read that advertisement in my podcast. I make sure that it goes out perfectly with my podcast. For that purpose, I incorporate stories of my own. These stories are memorable or funny and sometimes a mixture of both.
I am using an advertising tool and making it a part of my podcast to earn money. The relevant company gave me the advantage of sharing the fifty percent of the profit I received from the advertisement. Apart from paid partnerships, listening to donations is another tool that I a, using for monetization. I have invested a lot of my time and money to get trained to give my best podcast. Now, I am earning $4000 per month from my podcasts business, and day by day, an increased number of downloads on my podcasts ensures the quality of my podcasting performance.

Walsh is known for his speaking ability, winning strategies for financial success, authorship, and life/business coaching. He is also the founder of many Los Angeles, California-based firms and companies across diverse industries.
@Shegzy-Tech: $10 on every 1000 active followers
Instagram influencer are paid in a three major ways:
They works with brands on sponsored posts
They became a affiliate marketer for brands and organizations
They sell their products and photo's on there Instagram page.
It's somehow unspoken rule that Instagram influencer can only be paid $10.00(average) on every 1000 active followers that they have, influencer with 10,000 above are paid $90.00(average),an influencer with 100,000 followers above are able to make $200.00(average) while an influencer with 1,000,000 followers are going to be paid at least $800. 00 per post on a average counting.
Instagram influencer where paid with a simple tactic they have a IG money calculator that can be used to calculate there funds on every sponsored post they make.

My name is Shegzy Victor, a YouTube channel owner Shegzy-Tech I teach people how to utilize promptly accessible materials to generate their own creative skills and inventions project skills.
Matt Tuffuor, Toasted Life: tools for quantifying IG posts
One of the most reliable tools for quantifying IG posts for influencers is called Social Blue Book. A lot of agencies and large retail brands will use this tool to get a sense of what to charge for a promoted post. Even when I worked at YouTube this tool was thrown around quite often as a reliable source for our creators. This tool is almost like the KBB (Car Pricing Tool) for Social media creators.
REVENUE STREAMS
1. Outside of the obvious pay for post revenue, some successful creators will use platforms such as Patreon and generate recurring membership revenue from their IG followers. Patreon allows you to create tiers and incentives for your fans to pay you each month. Instagramers can get pretty creative in terms of what perks they offer their fans for being members.
2. Affiliate links are also a decent revenue stream for creators, especially on IG stories where fans can swipe up easily.
3. Merch - A lot of successful IGers will produce merch lines and sell direct to their fans.
My name is Matt Tuffuor, I am a Silicon Valley veteran and the co-founder of the lifestyle brand Toasted Life.
Aknazar Arysbek, Sourboro: First, direct collaboration. Second, through a platform
First, is direct collaboration. When you reach out to them and offer a deal. You have to handle the contracts and payments yourself.
Second, is through a platform on which you list a gig and get applications from influencers. This way is much more convenient and safer. The platform handles the contract part and the payment part. (They can withdraw their funds through Pay Pal or sometimes debit cards).
On average fee is 10%.
You should also pay attention to their profiles, many of them are filled with fake following and likes. To test that we use Upfluence software, it shows all the necessary stats and a credibility score.
One promotional post for influencers (3k-50k following) on average, costs $20.
$30-50 for 50k-100k
$100-500 plus for above 100k
Around 1m in following ~ $1000.
Depends also whether it is a personal account, a review page or a promotional page in a niche.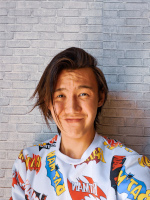 Aknazar Arysbek from Sourboro
---
About the author - Yoann Bierling
Yoann Bierling is a Web Publishing & Digital Consulting professional, making a global impact through expertise and innovation in technologies. Passionate about empowering individuals and organizations to thrive in the digital age, he is driven to deliver exceptional results and drive growth through educational content creation.
---
---
Explore Your Business Potential: Discover Our Range of Transformative Courses Today!
Unveil the power of knowledge with our diverse array of courses, from Operational Procurement in S/4HANA to SEO essentials. Elevate your expertise and drive success in your business ventures.
Get your course
---