---
---
Have you ever purchased something on a subscription basis, making regular payments every week, month or year to maintain your membership for a particular service or product? Chances are you have.
Now, imagine if you could generate a recurring passive income stream‌ from other people doing the same thing, by signing up for recurring payments on a product or service that you've recommended to them.
Sounds pretty good, doesn't it? Well, the good news is, this is possible when you find the best recurring affiliate programs‌ that match your business, website, or blog niche.
But first of all, what are the main characteristics of a good affiliate marketing program?
To tell you everything, I already found the best recurring affiliate program for myself, and it might work for anybody that runs a website – but there are other great programs available. How did I earn $1000 of residual income last 30 days, and which programs can help you to get there? Follow the guide, and let me know in comments what worked best for you!
Ezoic: Best recurring affiliate program
---
All programs proposed here are free to join and are useful to different niches! You should never pay any fee to join any affiliate program – if that is the case, leave it as soon as possible, as it based on money spent by affiliates to fund people that referred them, instead of paying back people that brought real clients. All below programs are free to join and offer useful products or services, for which a commission can be earned by being the one that referred the client, usually because they use the product or service themselves.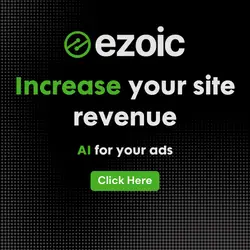 But before getting into details, let's see an example: that's how I got myself US$1000 of residual income from the best recurring affiliate program that is free, of a service that I actually use actively, the Ezoic mediation system‌ for website display ads.
By talking about how I multiplied my website earnings by 3 using Ezoic vs AdSense display ads system, and sharing the link with friends, somebody that also has a website joined the program and started using the product on his website.
His website's earnings went up to an average of US$1500 per day, for which I got paid a 3% commission, or about US$50 per day.
At the end, I earning a total of more than US$1000 in one month from this affiliate program alone, as passive income, and keep earning residual income as long as he keeps using the system and increase his own website earnings with their amazing product.
Do you want to generate passive income from the best residual income affiliate programs‌ around in 2020? Then follow the guide!
Recurring passive income on any website
---
Recurring passive income from websites above 10 000 visitors monthly
---
First things first, let's clear things up and confirm that blog and to monetize your website‌ with advertisement and product referral is a real thing. It's not a facade or some scam invented by an individual trying to give people false hope.
If you're promoting the right product to the right people at the right time, it can work, and it can generate significant income.
Traditionally, Affiliate Marketing programs payout a percentage of the initial purchase price to the referring affiliate. In other words, if you refer a buyer to a product that costs $250 upfront and your commission rate is 10%, then you'll get $25 for that sale.
With recurring affiliate marketing, on the other hand, affiliates continue to receive payments and commission after the buyer makes the initial purchase for as long as they are a customer.
How affiliate marketing works? A partner sells a product, that an affiliate advertises and gets a client to buy with his unique identifying link. The partner performs the sale with the client, and the affiliate gets a commission on the sale.
For example, if the buyer signs up for a service that requires a recurring monthly payment of $250, the affiliate would receive a commission of $25 for each monthly subscription payment. That means in one year, you can earn up to $300 from a single buyer for that product.
If you think this sounds like a great way to monetize your website‌ or blog, you may be wondering, What are the best recurring affiliate programs‌ out there?
So, let's get right into it. What are the best recurring affiliate programs‌ out there? Well, the truth is that it depends on your niche, who you're promoting products to, and what they are looking for or interested in purchasing.
---
A great option to find the best recurring affiliate programs‌ that are right for you is to search on affiliate networks or marketplaces including:
There are even residual income affiliate programs‌ that works for influencers, and might be better suited for people having a large following on platforms such as Instagram or TikTok, on which they can both find brands to collaborate with, and also get a residual income from these affiliate programs‌ by referring their friends or other influencers like them:
All these recurring affiliate programs‌ for influencers are of course free to join, and will not only help you monetizing your audience by providing useful content to them, but will also help you getting recurring income by referring these useful programs to anybody you know.
Now if you are running your own website, for example a Wordpress blog, the best recurring affiliate programs‌ for bloggers that will suit you are the ones that match your niche.
Their are plenty of recurring affiliate programs‌ for bloggers, and the best ones for yourself are the ones that are free to use (which is the case of all programs mentioned here), that you will use yourself for your own needs, refer in your blog to your visitors and your friends in general, and help everybody get the best deals on things that are useful to them.
Each marketplace offers a variety of affiliate programs‌ that will cater to your specific niche to monetize your website.
For example, ShareASale is a great option for those looking to refer affiliate products in the fashion niche; while individuals looking to generate income from recommending digital products will find a diverse selection of products on ClickBank and JVZoo.
When it comes to promoting marketing or advertising products, ShareASale, ClickBank, and JVZoo are all great options.
Additionally, there are some top rated recurring affiliate programs‌ for businesses including Convertkit, AWeber, and Social Pilot.
In the end, there is little value in promoting the wrong product to the wrong audience.
So, choose the best recurring Affiliate Marketing products for your niche, and stick to it to make money online!
Our favorite ones are:
Try them all! Create an account now for free, use them whenever you get the chance!
What is your favorite recurring affiliate program, and did you manage to make thousands of dollars a month like in above example? Let me know in comments!
About the author - International Business Consulting
Yoann is an International Business Consultant, facilitator and coordinator. He worked more than 10 years in global business, supply chain, financial, SAP ERP projects, Web and SEO optimization for various industries, such as logistics, cosmetics, consumer goods, beauty care, or fashion, in more than 30 countries around the globe.

---
---
---