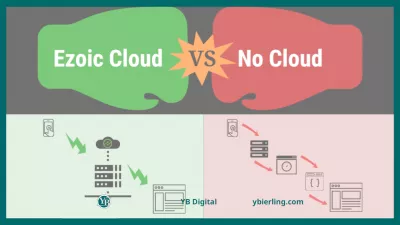 ---
---
Ezoic Cloud starts the review with the definition of software. EZOIC is an artificial intelligence software product. Accumulates the best advertising from partners to help the web resource get more profit.
Ezoic is an ad testing platform that allows you to test ad placement and layouts for different types of ads from different ad networks on your site. This is an opportunity to optimize your site's ad revenue by trying out different website layouts and positions, and improve user experience by combining ads to get the most engagement.
In simple words, this is an opportunity to increase income with the help of Ezoic Ads. The platform analyzes the data and offers you the best option for this.
The company is a certified Google partner, which allows to significantly increase the monetization of the web resource.
Description
The technical website optimization service Ezoic.com appeared more than ten years ago (2010). Using the technology of experimental search, the optimal effect is found thanks to advertising impressions (50 - 250%). During the display process, a system of behavioral factors is also created, which makes it possible to determine which ad is the most effective. In this case, the program from which the software is examined is also taken into account.
Experimental search means:
According to the creators, behavioral factors improve by 100 - 200%
Ezoic technology is recognized, the site is an official partner of Google, which gives it the right to:
Place Adsense advertisements on Premium terms (up to 5 blocks instead of 3).
Avoid blocking.
Get optimization on impressions.
Receive analytical information.
Ezoic Cloud is a platform that enables digital publishers to optimize and automate ads, layouts and more.
Server-Side Ad Serving via Ezoic Cloud:
1. Visitor requests page
2. Ezoic Cloud responds with the page and ads
Allows all the content to load for the visitor
Ad Serving Without Ezoic Cloud:
1. Visitor requests page
2. Host responds
3. Ads use javascript to call the ads
4. The ad call returns and the page loads
Beginning of work
To get started, it is necessary that the site is visited by 10,000 people every month
It is necessary to decide on the integration method, create initial settings:
Caching.
AdTester.
Ezoic Cloud overview are recorded in tables:
Efficiency.
Statistics (Reporting).
To start using Ezoic, you need to create an account, install the Chrome extension. It will help you choose the location on the portal. After that, you will need to add material to the pages. Ezoic will automatically find relevant ads for the right audience, which will give you the opportunity to increase your profits.
Display Advertisement Placeholders: Placement And Optimization
You can also connect tracking SubIDs. This requires the use of the menu.
Advanced. In the same section, in the lower block, the partner code is generated (see banner). The referral link is in the section: Multi Level Marketing.
Testing
Within 14 days, you can try the resource, to understand how relevant it is. By joining the Ezoic Cloud program, you can expect to see increased profits. Ezoic Cloud is free to use and test – if you start monetizing only, they will keep a small percentage on your ad earnings.
Cloud publishing partners have benefits:
In general, the web resource begins to work more quickly, which makes it possible to increase the volume of income.
Ezoic Dashboard
Ezoic Cloud has a powerful dashboard that is more informative than even Google Analytics. Ezoic can collect information from various resources, which is why working with this portal is more productive.
The work takes place online, which allows you to quickly adjust the strategy.
Tariffs
After the income level exceeds the limit, a letter is sent automatically, then you can choose an acceptable tariff.
If you use the Premium tariff, you will always be able to choose the best conditions, earn more money.
If the user refuses the premium plan, then Ezoic will help increase the portal's profitability by displaying advertising materials.
Depending on the premium plan, it is possible to get a discount on Site Speed ​​Accelerator.
Ezoic is one of the few Google certified companies, and it really helps you make money by optimizing your ad content. You can work for free, only the premium plan costs money.
Account replenishment can be done at the time of switching to a paid plan. The following cards are used:
Discovery.
It makes sense to join, it will bring additional dividends.
Referral program
A referral program can be effective, it will increase your income. It was created as a separate partnership project. There are two schemes:
Payment for attracted clients (3% of Ezoic income).
Portal for a new partner of the partner (1% of income).
For more information, follow the link below Get Started – you don't have to use  Ezoic platform   to start refer other websites and earn affiliate income, and registration is free.
In Conclusion
As you can see, working with Ezoic is promising and makes sense. This is an effective tool to warm up your site and reach a new quality level in its promotion.
Make your wordpress site faster with Ezoic.
★★★★★
Ezoic Cloud review
 Working with Ezoic Cloud is promising and makes sense for any Web publisher, regardless of their use of display ads to monetize their website. With various cutting edge technologies for Website improvement, from speed to user experience via display advertising, and being free to use, it is the best technology you can implement on your website.
Frequently Asked Questions
Why should I use Ezoic Cloud?

Since Ezoic is a good opportunity to optimize your site's ad revenue, you need to carefully work with ad layouts. It is Ezoic Cloud that will help you optimize and automate ads, layouts and more.

Is the Ezoic dashboard multifunctional?

Ezoic Cloud has a powerful dashboard that is even more informative than Google Analytics. Ezoic can collect information from various resources, so working with this portal is more productive. The work takes place online, which allows you to quickly adjust the strategy.
---
---