Who doesn't love making a little extra money from their blog and you might be considering posting ads. This will necessitate the use of an advertising network, which is a service that links internet marketers with website publishers.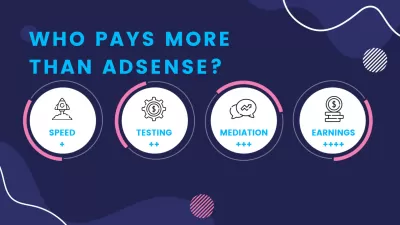 ---
---
Who pays more than AdSense?
Who doesn't love making a little extra money from their blog and you might be considering posting ads. This will necessitate the use of an advertising network, which is a service that links internet marketers with website publishers.
You've almost certainly stumbled across Google AdSense when looking for an ad network. It is the most widely used pay-per-click (PPC) platform on the internet, with over 10 million websites using it. However, it is not the only option; you might want to look at AdSense alternatives. And, with so many options to generate money online, deciding which path to choose may be difficult.
So, let's take a look at why you might prefer a different ad network for your website. Then, we'll look at the top ad networks other than AdSense that you can utilise to start monetizing your site.
Top 5 Alternatives Who Pays More Than AdSense
Reasons to use an AdSense substitute
Here are some compelling reasons to utilize a competitor ad network rather than AdSense:
Minimum Payout:
A network's minimum payout is the amount of income necessary before you may be paid. AdSense has a greater minimum payment of $100 than other rivals. If your website is newer or less known, it may take longer to earn $100 in income than you would want. You could be better suited collaborating with a firm that has a smaller minimum payment.
Requirements for Eligibility:
Many networks, like AdSense, demand applicants to fulfill specified metrics on their website before becoming partners. If Google refuses to accept your blog for an AdSense account, you'll need to locate a network with less rigorous approval standards.
As a result of the platform's strong click fraud monitoring, your AdSense account may have been deactivated. For example, you may have accidentally placed an ad on a website where it wasn't intended to be, or you could have clicked on one of your own advertisements. It's simple to violate the terms of service if you're not paying attention, and you might require a more lenient choice.
Customization of ads:
Some ad networks allow you to tailor the style of your publishing to fit the concept of your website, allowing them to mix in more seamlessly with your original content. Customization varies by provider, however many let you to adjust the color and size of a unit, which is more versatile than AdSense.
Revenue cut:
Publishers earn approximately 67 to 68 percent of ad income from AdSense on their website. Although this is a competitive rate, several alternative networks provide a larger proportion. To qualify, you'll need a top-tier website with steady and high traffic, but it'll be worth it if you make the cut.
Niche not supported:
Some websites are just not designed to be utilized with AdSense. However, you may normally make more money with other networks that specialize in your area. For example, dating, gambling, and so forth.
Banning of your account:
This happens frequently since every mistake on Google AdSense might lead to bans. One of the most common blunders that lead to suspensions is clicking your own adverts. Make sure you obey their regulations and are always aware of what's going on in your data. It will be almost tough to regain access to your account, and you will be limited to other AdSense possibilities.
Specifically designed for your blog:
Larger advertisements networks, such as Google AdSense, are designed to serve any type of content-heavy website, including blogs, news sites, and video publishers. If you want an ad supplier who will work directly with you and can design a custom-fit solution for your site, it makes sense to seek for an AdSense alternative.
If any of these circumstances apply to you, there are several viable options to explore.
When it comes to choosing an alternative, it's not always about who pay more than AdSense but it's also about which have the best feature and which can accommodate you better to your requirements. Let us look at the greatest among them.
Ezoic is an artificial intelligence system platform that allows you to test the placement, size, and optimization of your advertisements.
Ezoic's mission is to assist website owners in optimizing their site by learning the behavior of visitors in order to improve and expand website profits and user experience. Simply said, Ezoic is an ad management network that allows you to test the best performing ad to decide which one is best at supplying you with the greatest option for maximum and exponential growth.
This is a sure the best way to attract the traffic you want for your website.
Ezoic Platform Review - Advantages And Features Of The Service
Ezoic's features
The Advertisement Tester:
Publishers may use the Ezoic Ad Tester to do automated multivariate testing with a simple drag and drop option. The major purpose is to learn how different clients react to a variety of advertisements. This implies that your site will provide a better user experience for clients and make more money.
Mediation using the Ezoic Ad Network:
The Ad Network Mediation App (Ezoic) is a tool that you can use to help your website's publishing partners compete for your ad space. Ezoic works with approximately 1500 mediation ad firms and monitors the ad revenue generated by each of them through an online reporting portal.
Intelligent Layout Tester:
The Ezoic determines the most effective layout for each occasion. This implies that a Twitter visitor may see different layout than a search engine visitor. You may use the layout tester to create several variants of your content and test the version that performs best for you.
Premium Publisher's Program
After a while using their website revenue optimization features, you might get invited to join the Ezoic's Premium Publisher program in which you will have access to exclusive features, and get a real human sales team to work on your website's advertisement deals directly with large advertisers, leading your account to earn an average of 10% more money per month with these premium advertisements.
Free Website Optimization Technologies
Regardless of your level of involvement with this technology specialist, you will get access to various groundbreaking technologies, of which the list never stops increasing to include new features, all in the objective of getting your websites to rank higher, get more visits, and monetize better. Some of these features are the following:
Ezoic's Pros
1. You can manually install advertising on your website and do A/B tests, but this will be far less successful than automated testing. For example, if you put only 5 ad placeholders, Ezoic will test 3000 possible combinations, compared to 142 000 for 10 placeholders. This is due to the fact that Ezoic examines not just placements but also different Ad sizes and designs. They then utilize the data to strategically place the adverts in order to boost your earnings.
2. Ads may be placed in the sticky sidebar using Ezoic. On both mobile and desktop, you may enable anchor adverts, which show at the bottom of the screen. I strongly advise employing both sticky and anchor advertisements as they are high-paying for advertisers.
3. Your Ezoic advertising are completely under your control. You may configure things like the maximum number of Ads displayed per page. Individually enable or disable anchor advertisements for Desktop, Tablet, Mobile, and Mobile.
4. With Ezoic, the minimum payment barrier is as little as $20. It's substantially lower than most other ad networks (for example, AdSense has a $100 minimum).
Ezoic's Cons:
1. If you do not wish to pay for the service, Ezoic will place a little advertisement at the bottom of your website. That's unfortunate, but it's practically imperceptible, and the great majority of visitors don't even scroll to the conclusion.
2. You will not get instant results after switching to Ezoic. Your revenue may possibly be reduced in the first few days. It typically takes approximately a month to choose the ideal ad layout and begin earning the most money from an e-mail or web ad.
3. The setup is a little difficult. You must point your site's DNS to their DNS server, which may be difficult for some. You'll have to get used to it to figure out which setting is where.
Ezoic Pros and cons:
Automated ad placeholders testing
Sticky sidebar anchor adverts
Completely under your control
Minimum payment barrier is as little as $20
Premium publishers program
Free website optimization technologies
Recommended by Google Lighthouse
Contact with a personal Publisher Success Manager
Little advertisement at the bottom of your website
Takes approximately a month
The setup is a little difficult
★★★★★
Ezoic AdSense alternative
 Ezoic is a reliable partner with extensive experience in the digital marketing business. Its amazing features have been tried and evaluated. Depending on historical user input, Ezoic is the best partner that can assist you in running your website based on the demands of your clientele.
Propeller Ads is one of the largest advertising networks for publishers that is accessible today. They began operations in 2011 and swiftly grew into one of the largest networks with high CPMs.
They specialize in monetizing websites in the following categories: entertainment, videos/movies, gaming, dating, financial, software, gambling, and others. If you have a website in those topics, Propeller might bring you more money than AdSense. Also, if you have mobile traffic, because they collaborate with ad networks that monetize applications and mobile services, resulting in high ROI and CPMs.
PropellerAds - Advertising Platform Review
Propeller Ads Features
Global reach:
They monetize 100% of online traffic through their global advertiser pool. This means that marketers may be interested in showing adverts to a certain native language audience on websites with non-English content.
Ad block Removal:
Publishers lose money as a result of ad blockers. Propeller Ad block Bypass technology allows publishers to monetize ad block users by substituting traditional display ads with non-intrusive ads like native ads.
Clean advertisements:
PropellerAds controls the quality of ads on the website using technology and manual automation. The same method is used to filter away advertising containing malware and obscene material, displaying only high-quality and risk-free adverts to viewers.
OnClick PopUnder Advertisements:
Also known as ClickUnder ads, these ad formats expand to full-screen mode when users click on them. These ads provide visitors with additional information as well as a link to the advertiser's website.
Thanks to the user's click on the page, the format can help publishers make more income while simultaneously providing advertisers with a clear image of the user's interest (this data can subsequently be utilized for retargeting).
Push notification:
Explore Your Business Potential: Discover Our Range of Transformative Courses Today!
Unveil the power of knowledge with our diverse array of courses, from Operational Procurement in S/4HANA to SEO essentials. Elevate your expertise and drive success in your business ventures.
Get your course
PropellerAds is a push notification tool for mobile publishers to attract more traffic. This is accomplished by displaying a notification on the user's screen regarding the most recent information or services available on the site that may be of interest to her/him.
Reduced payment threshold:
PropellerAds pays publishers with traffic from high-traffic nations. The company's payment conditions have just been changed. With this new version, the minimum payment requirement has been dropped to almost $5. Additionally, publisher profits are credited utilizing an automated approach.
Various ad formats:
PropellerAds offers a variety of ad styles for publishers to select from, ranging from basic banner ads to responsive rich-media advertisements. Its dashboard is available in over 9 languages, allowing publishers to better comprehend ad income in their home language.
Propeller Ads Pros
For small publishers, the fact that there is no minimum traffic requirement must be the most tempting aspect. They may be able to start monetizing their website even with a tiny number of visitors. This encourages publishers to boost site traffic and revenue.
When it comes to receiving payments, publishers now have additional alternatives.
Unlike other advertising networks that have certain criteria for your website, one of their distinguishing features is how simple it is to get started.
Propeller Ads provides a variety of monetization strategies to accommodate any type of website and create only the highest quality visitors.
Propeller Ads Cons:
The platform supports non-English languages; however money earned by such websites is lower than revenue provided by English websites.
In its evaluation, PropellerAds considers website UX and design. Expect a reduced CPM if your site does not fulfill quality requirements.
PropellerAds publishers losing out on the benefits of header bidding because the firm does not offer it.
PropellerAds Pros and Cons
No minimum traffic requirement
Additional payment alternatives
No criteria for your website
Variety of monetization strategies
Non-English money earned lower
PropellerAds considers website UX and design
No header bidding
★★★★☆
PropellerAds AdSense Alternative
 PropellerAds is an excellent advertising network. Despite its flaws, its simple approval procedure, real-time reporting, and reduced payment barrier are admirable.
Adsterra, which was launched in 2013, is regarded as a solid monetization platform for publishers owing to its flexibility and clever solutions.
Adsterra is a young and active ad network for publishers that wish to make money by displaying advertisements on their website. It helps publishers maximize their eCPM with simple organic traffic solutions, while advertisers increase their ROI and satisfy KPIs.
Adsterra focuses on CPA marketing initiatives. Although the ad network offers a variety of ad kinds, including CPC and CPV, it is the pop-unders that set them apart. As a publisher, you will be able to customize pop-unders, such as where they show on the screen and the size of the window.
Adsterra Review: How Much Can You Make From Their Ads?
AdSterra Features
In-Page Push:
By default, in-page push traffic differs. These adverts, like banners, are inserted on a website using a single line of code. They do not require subscriptions and are not browser-dependent. As a result of the basic idea, they are only available on the web page and not on devices. You may run several in-page alerts on the Adsterra platform by selecting any style that has been battle-tested and proven to convert.
Pop-under:
These advertisements appear in a new window or tab behind the current window.
Social Bar:
The social bar is a fresh and unique ad structure. Its primary feature is complete customization. This implies that the creatives can take any form, based on your preferences and goals. Chats, video teasers, messenger icons, interstitials, in-page pushes, alerts, and bespoke banners of any configuration are all possible with Social Bar.
Platform for Automated Self-Service:
The ad network provides automatic solutions for publishers that do not wish to use managed services. This allows publishers to quickly create a campaign, produce ad codes, track data, and modify any other settings as needed.
Adsterra's Innovative Anti-Adblock Solution: Adsterra created its own anti-block solution, which improved publisher income by 20%.
AdSterra Pros:
Advertisers may use Adsterra's self-service platform (SSP) to launch, manage, and evaluate advertising campaigns.
Adsterra is an excellent platform for monetizing traffic from your blog, application, or even your Facebook page.
A versatile referral network that allows publishers to earn an additional 5% commission.
Both managed and self-serve services are accessible, which is great because it is entirely up to the user to select their own services.
Integration of API and tracking is simple.
AdSterra Cons:
CPM rates may differ by country.
The minimum compensation for publishers is fairly large ($1000 for wire transfers and $100 for other payment methods).
There is no web-based help channel.
AdSterra Pros And Cons:
Self-service platform
Monetizing traffic from blog, application, or Facebook page, ...
Versatile referral network
Both managed and self-serve services are accessible
Integration of API and tracking is simple
CPM rates may differ by country
Minimum $1000 for wire transfers
No web-based help channel
★★★★☆
AdSterra AdSense Alternative
 Adsterra is loved by many as it offers one of the best monetization rates when compared to a few others.
EvaDav is a push notification platform that offers publishers with native push advertisements. And, without a doubt, these insert advertisements earn more cash for publishers than any other type of advertisement. Furthermore, these advertising result in increased conversions. As a result, advertisers use them to promote their goods and services.
EvaDav Review For Publishers: Display Ads Monetization
EvaDav features
Push Notification Ads:
Over time, typical banner advertising have proven useless. Push notifications are a new form of monetization approach that has yet to be fully explored. And this what EvaDav have brought to the market that is unique. A well-designed push notification will undoubtedly improve engagement and clicks on your ad.
Ad Formats:
EVADAV ad types, which may be customized with multiple destination URLs, provide even more advertising alternatives.
2 Min Moderation:
Your campaigns and advertising will be regulated in an average of 2 minutes, regardless of time, zone, or region.
Security:
Their system detects and eliminates any bot or suspicious behaviour, leaving just real people and a live audience for your advertisements.
EvaDav Pros:
All of the sponsors' creatives are scrutinised by machine-learning algorithms, and the best part is that they are also humanly verified.
You can easily gain access to Premium publishers and target the demographic that best suits your offers.
Every day, more than 50 million push advertisements are delivered to advertising partners, assuring a strong ROI for you.
Simply by matching the greatest offers with the proper audience, you can easily and efficiently increase the efficiency of your ad campaigns.
EvaDav Cons:
Sometimes the site sends visitors via bots
there are no options for creating CPA campaigns
EvaDav Pros And Cons:
Machine-learning algorithms
Premium publishers
More than 50 million daily push advertisements
Site sends visitors via bots
No options for creating CPA campaigns
★★★☆☆
EvaDav AdSense Alternative
 EvaDav is good for monetization however it lacks behind the others a little.
Media.net is an advertising firm that specializes in monetization tools for digital publications. To monetize publishers' inventory, the services include search, display, native, video, and mobile advertising.
Media.net began as a Yahoo!-Bing alternative to Google AdSense. It is no longer owned by Yahoo! or Bing, although it continues to work with these firms. So, it is a bing contextual network that controls the delivery of high-quality advertisements to over almost 500,000 websites. The company collaborates with major ad networks, publishers (including Forbes and Tech Crunch), and prominent ad tech firms (Facebook Audience Network). If you don't know, it is also one of the top five ad technology businesses, as well as the second largest contextual advertising company.
Media.Net features
Ads in context:
All publications may benefit from contextually focused adverts on Media.net. This sort of targeting displays adverts based on the content type on the publisher's website/app. Users will see adverts connected to the vehicle business, for example, if a website distributes automobile blogs.
Ads that are mobile responsive:
Media.net features a responsive capability for mobile devices that allows publishers to place responsive ad creative that scale according to the screen size of the mobile or tablet device.
Display to Search (D2S) ad format:
Media.net found this ad structure, where display units are utilized to present search type advertising. When a user clicks on a term in an ad unit, it redirects to a search engine, similar to a page loaded with search advertising. Media.net has teamed with search engines such as Yahoo! and Bing to do this.
Native ads:
Media.net does an excellent job at displaying native contextual adverts. Native advertising blend seamlessly with the site's style and layout to provide consumers with non-intrusive advertisements.
Media.net suite:
The Media.net suite is self-optimized suites that can analyses massive amounts of data. The data is then utilized to match traffic with advertisers without the usage of cookies. As a result, the publishers' overall revenue grows.
Marketplace:
With ties to the whole global contextual marketplace, the firm is the second-largest contextual company. Access to a larger market equals greater competition and money.
Media.Net Pros:
Media.net has a higher quality demand, publishers are more likely to benefit.
Media.net's technology has been modified to display only relevant contextual advertising to users. Contextual advertising communicate less user information throughout the ad delivery process, preserving the publisher's income.
As the ad type receives clicks on search phrases (keywords), marketers have a clear understanding of the user's intent. This enables them to target people in a more complex manner, resulting in better targeting and ROI.
Media.Net Cons:
Media.net only accepts payments in US dollars. This criteria is appropriate for US-based partners. The remainders of the partners are stuck by unfavorable currency conversion processes.
Media.net is an invitation-only network, and a publisher's website may be denied if the quality of traffic is insufficient. To reach its target audience, the corporation requests significant traffic from top-tier nations such as the United States, Canada, the United Kingdom, and others.
Media.Net Pros And Cons:
Higher quality demand
Relevant contextual advertising to users
Better targeting and ROI
Only US dollars
Invitation-only network
★★☆☆☆
Media.net AdSense Alternative
 Media.net is a great place to start if you are someone who is very creative.
The Bottom Line
The major component in generating money from these AdSense alternatives is driving adequate traffic to your websites from search engines.
Remember that increasing your search traffic is the key to making more money from these ad platforms. The more search traffic you get, the more hits you can get, and the more clicks you get, the more money you can make with these AdSense alternatives.
Frequently Asked Questions
What are the benefits of Adsense competitors?

The main benefits are payouts, eligibility requirements, advertising customization, etc.
---
---
Explore Your Business Potential: Discover Our Range of Transformative Courses Today!
Unveil the power of knowledge with our diverse array of courses, from Operational Procurement in S/4HANA to SEO essentials. Elevate your expertise and drive success in your business ventures.
Get your course
---